Rustic Dark aperitif with roasted eggplant hummus
---
Ingredients
for 1 loaf of bread
500 g Mix for Rustic Dark
290 ml water (room temperature)
When working your dough, always sprinkle flour over the work surface/rolling pin/dough.
for the hummus
1 large eggplant
a few tablespoons olive oil
zest of 1 lemon
salt and pepper
1 tbsp tahini
juice of ½ lemon
1 jar rinsed chickpeas
1 tsp za'atar
1 clove garlic
for the topping
chopped parsley or chives
edible flowers
dash of chilli
pomegranate seeds
---
Preparation
make the bread
STEP 1
Knead Mix and water for 20 minutes by hand or 10 minutes in a bread machine until you have a smooth dough.
STEP 2
Cover with a tea towel. Leave to rise at room temperature for 40 minutes.
STEP 3
Press flat and knead again for 1 to 2 minutes. Shape the dough any way you want. Place in a greased baking tin or on a greased baking sheet.
STEP 4
Cover and leave to rise at room temperature for 40 minutes until the dough has doubled in size.
STEP 5
Bake the bread for 30-35 minutes in an oven preheated to 220°C.
STEP 6
Allow the bread to cool and cut into thick slices.
make the hummus
STEP 7
Cut the eggplant in half, place the halves with the flesh down in a casserole dish.
STEP 8
Brush with olive oil and sprinkle with a pinch of salt. Bake for 20 to 25 minutes in an oven preheated to 190°C. Allow to cool.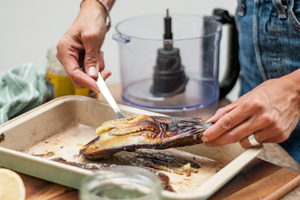 STEP 9
Scoop out the flesh from the eggplant.

STEP 10
Mix with the rest of the ingredients in a food processor.
Bdress the aperitif tray

STEP 11
Serve the hummus on a slice of bread and top with pomegranate seeds, a pinch of chilli, chives, and edible flowers.
2